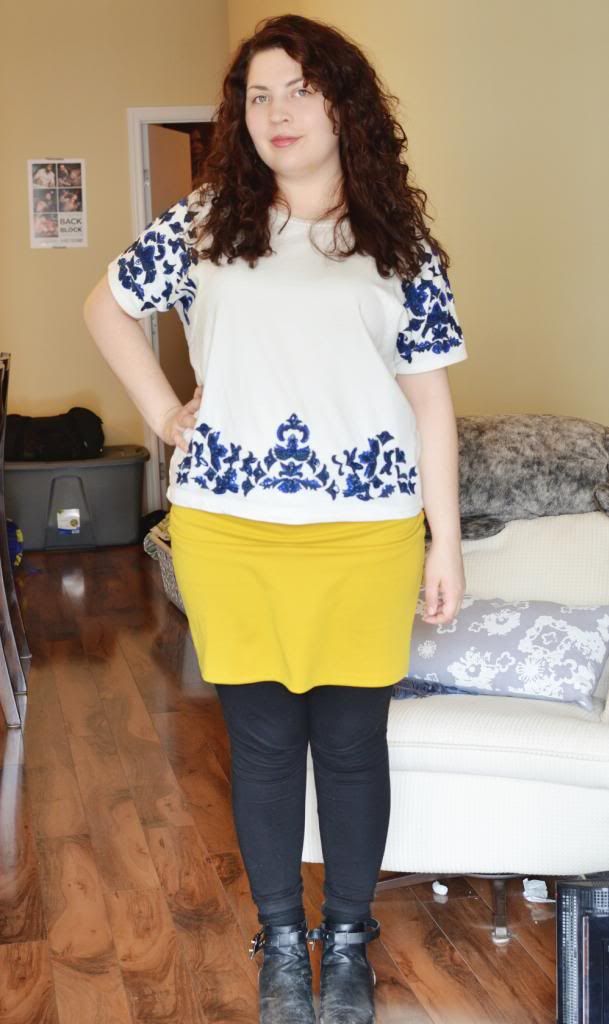 I wore this outfit a little while ago and tried very hard to take a picture of it with my self timer, haha, I am never going to be able to go back to self timed photos. SUCH a pain in the butt. I couldn't get the lighting right, or the focus... I miss my remote. Hopefully it will come in the next couple days. In the meantime I was able to get a few outfit photos this weekend taken by Mr. Nick. He complained the whole time though. ;)
Anyway, I loved this outfit, the mustard and navy combo is my new favorite.
This weekend was awesome! It's finally go-outside-and-enjoy-spring weather and we did just that. Friday night I was ready to party after being cooped up in the apartment for three weeks with my cold and then nursing Nick back to health during his cold (it took me two weeks to feel better, and he was better after one. Just saying. I'm a better nurse).
We wanted to hang out with friends but everyone was busy so we decided on a date night! We headed downtown and started our date at new establishment
Cavern
where we sampled some cheeses, wines, and treated ourselves to her dessert cheese and chocolate pairing. Divine! After that Mr. Nick was still peckish so we walked back to our favorite spot,
Cask and Barrel
. There we were happy to sit at the bar and chat with our favorite bar tender Kyle! I may have drunk a little too much wine but we had a great time talking and eating delicious food!
Saturday we lounged around the house until the afternoon had crept up on us, then we again headed downtown to try
the Mercer Tavern
. I took lots of pics of our dinner so I'll wait to tell you about it in detail. ;) We walked back to Cavern to have even more cheese then headed quickly home to catch our movie! Iron Man 3 was excellent, the best in the series, and made a great end to our day.
Sunday we did some more lounging, I spent some serious time reading a cat behavior book called "Starting from Scratch" by behaviorist Pam Johnson-Bennet. I'm learning a lot and am getting really enthusiastic about cat training! To kick things off we headed to Pet Smart to pick up some clickers and a cat tree! Tommy really needed a taller scratching post so he could stretch and also something tall to climb other then our entertainment center. Considering I woke up to this:
I would say our shopping trip was very successful! My mum is an interior decorator so she kinda impressed her distaste for cat furniture on me from a young age, despite that I don't mind the look of our new cat tower and I think it sits rather unassuming in this corner. I even kinda like how it adds more vertical interest to that blank space on the wall. Tommy was rubbing all over it, scratching it and climbing it last night so I think he's gonna be quite happy to have a piece of furniture just for him. Hopefully he'll no longer feel the need to sit on top of our television.
After bringing home the cat furniture we headed to Nicks parents house for the first BBQ of the season! We all sat outside in lawn chairs and let me tell you it felt soooo darn good! I'm breaking in my Birkenstock sandals yesterday and today and I can't wait to order some more dresses for summer frolicking. I have
this one
and
this one
on my mind. ;)
Whew! Glad I got to tell you a little about my weekend, I hope everyone had a great time and enjoyed some of the warm weather. If it's cold where you are... I have no sympathy. Haha, JK I know just how you feel. ;)