I'm really excited to announce that as of today, I've started taking my first Blogging E-Course! Elsie's (A Beautiful Mess) Blog Love!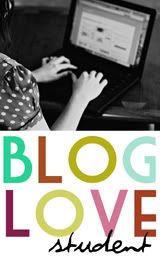 I'm really excited to expand the blog and grow as an individual and a blogger. What this blog is becoming is so important and exciting to me, it's really helped me on my personal style and life journey. I'm always evolving, and with a little more knowledge I would like the blog to reflect that! I look so forward to implementing some of the things I learn!
Plus, Elsie's E-courses are fantastic. I really encourage anyone who is thinking about doing one to go ahead, I bought the sewing e-course from Elsie previously and although I haven't done any of the projects before, I'm really looking forward to doing them when I have some time on my hands.